A man has been shot dead after trying to seize a soldier's weapon at Orly airport in Paris, French officials say.
He was killed by the security forces after attacking a patrol in the airport's southern terminal.
The airport has now partially reopened after what the authorities described as an extremely serious incident.
The man, 39, was on a watch-list of radicalised individuals and had been involved in a shooting hours earlier in the north of Paris, police say.
He had a long criminal record including convictions for armed robbery, French media report.
The sequence of events
Early on Saturday morning the suspect was stopped at a checkpoint in northern Paris and fired at police with a pellet gun before escaping in a car that was later found abandoned in the southern suburbs.
He is then believed to have stolen another car at gunpoint from a woman which was later found at Orly airport.
At the airport 90 minutes later the man approached a military patrol.
He tried to seize a weapon from her "in an extremely violent attack", an army spokesman said.
She managed to keep hold of the gun, and two other soldiers opened fire on the attacker, killing him.
The attacker's motivation is not yet known. His father and brother have been taken into police custody - which is standard procedure in suspected terror attacks.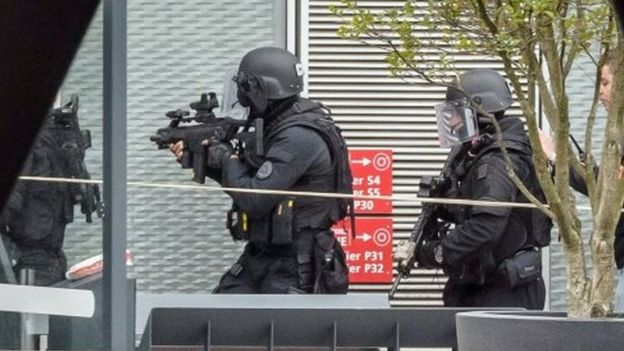 A security operation has taken place at the airport with bomb disposal experts involved and a search for any possible accomplices.
Police say the attacker was not carrying any explosives. No-one else was seriously hurt in either incident.