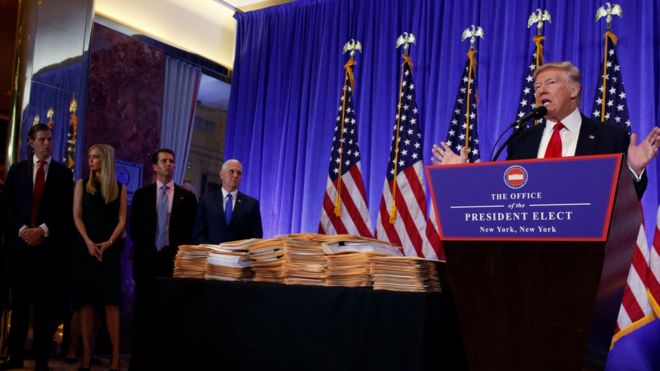 The director of the US Office of Government Ethics has criticised Donald Trump's plan to hand control of his business empire to his sons before his inauguration on 20 January.
The plan does not match the "standards" of US presidents over the last 40 years, Walter Shaub said.
A Trump lawyer said earlier the new trust would face "severe restrictions" on new deals.
But Mr Shaub said the plan would not remove conflicts of interest.
"Every president in modern times has taken the strong medicine of divestiture," he said, referring to a process whereby Mr Trump would sell off his corporate assets and put the profits into a blind trust run by an independent trustee.
At a news conference on Wednesday, lawyer Sherri Dillon said that management of the Trump Organization would be transferred to a trust controlled by Mr Trump's sons Don and Eric and chief financial officer Allen Weisselberg.
The Trump Organization is an umbrella company for Donald Trump's hundreds of investments in real estate, brands and other businesses.
In other developments:
National intelligence director James Clapper said he had told Donald Trump that the intelligence community had not "made any judgment" that the information in a dossier alleging Russia had compromising material on the president-elect was reliable. He also told Mr Trump that he did not believe the intelligence community was the source of the leaked allegations
Mexican President Enrique Pena Nieto said his country would "of course" not pay for the wall that Mr Trump on Wednesday again promised to build at its expense to block illegal immigrants
Secretary of state nominee Rex Tillerson said it was "a fair assumption" that Russian president Vladimir Putin had been behind hacks of the US Democratic party during the election campaign. Mr Trump also said for the first time "I think it was Russia"
Outlining a structure designed by her and colleagues at the law firm Morgan, Lewis & Bockius, Ms Dillon said President-elect Trump wanted Americans to have no doubt that he was "completely isolating himself from his business interests".
The trio in charge "will make decisions for the duration of the presidency without any involvement whatsoever by President-elect Trump", she said.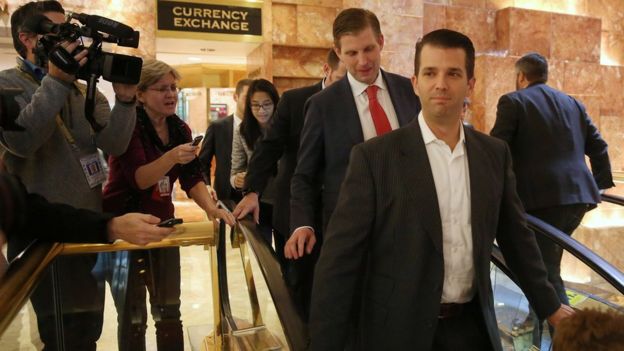 No foreign deals will be made and domestic deals will be subject to "vigorous vetting", she added.
Soon after, Mr Shaub said that the arrangement would not remove conflicts of interest for Mr Trump since, unlike in a blind trust, he would still see information about the businesses and deals being made in the newspapers and on television.
"His sons are still running the businesses and, of course, he knows what he owns," he said at the Brookings Institution think tank in Washington DC.
Describing Mr Trump's plan as "wholly inadequate", he said: "Nothing short of divestiture will resolve these conflicts."
BBC