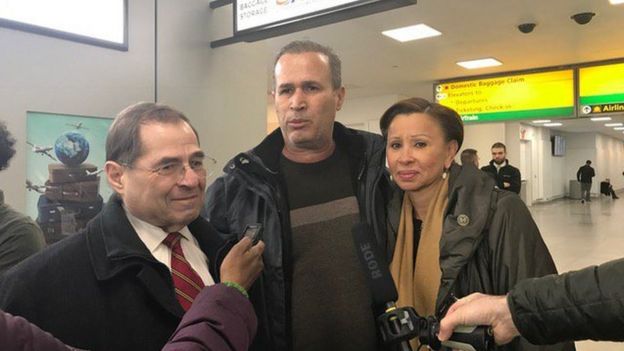 Refugees arriving in the US are being held at airports after President Trump issued an order barring migrants and refugees from several Muslim countries.
Protesters are gathering at New York's John F Kennedy airport to demand the release of 11 refugees who are being detained there.
The exact implications of Donald Trump's order remain unclear.
He is facing a legal challenge from several rights groups. People fleeing Syria are banned until further notice.
The other countries affected are Iran, Iraq, Libya, Somalia, Sudan and Yemen.
While those who were already in transit to the US at the time the order was issued on Friday are apparently being detained by border officials, other people affected by the ban are being prevented from boarding planes, despite having valid visas.
The human rights groups, including the National Immigration Law Centre (NILC) and the American Civil Liberties Union (ACLU), filed a lawsuit in New York to demand the release of two Iraqi men who were in the air bound for the US when the executive order was signed.
One of them, Haneed Khalid Darweesh, who had worked as a US Army interpreter, was released on Saturday afternoon.
The other man, Haider Sameer Abdulkhaleq Alshawi, remains in detention.
New York Representative Jerry Nadler tweeted that he and fellow Democratic Representative Nydia Velazquez were working to help 11 more refugees still being held.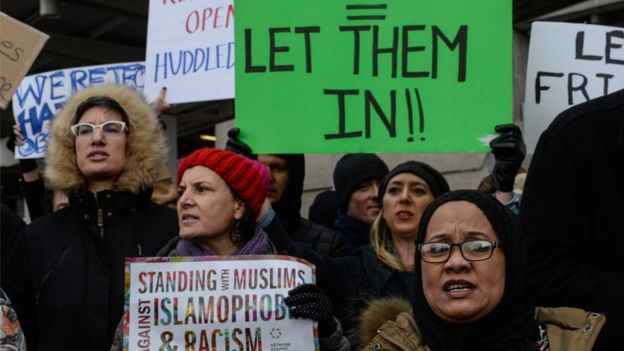 Mark Doss, a lawyer for the two Iraqis, said he was delighted that Mr Darweesh had been released by border officials:
"This obviously was an illegal detention. This is a discriminatory order from President Trump and we will continue to fight for all of the refugees, immigrants and non-immigrants that are coming to the United States [and] are being illegally detained."
On Saturday several Iraqi passengers and a Yemeni national were prevented from boarding a flight at Cairo airport bound for New York, despite holding valid visas for the US.
Google has urged travelling staff members who are nationals of the seven countries affected to return to the US as quickly as possible.
Friday's wide-ranging order includes the following measures:
The suspension of the entire US refugee admissions programme for 120 days
A ban on all refugees from Syria until "significant changes" are made
A 90-day suspension on anyone arriving from Iraq, Syria, Iran, Libya, Somalia, Sudan, and Yemen, except certain visa categories such as diplomats
Priority for future refugee applications from those persecuted for their religion - but only if the person is part of a minority religion in their home country
A cap of 50,000 refugees in 2017 - less than half of the upper limit under Mr Trump's predecessor, Barack Obama
Mr Trump signed the order on Friday.
In response, the United Nations refugee agency said the needs of those fleeing conflict had never been greater.
The Council on American Islamic Relations (CAIR) also says it will file a lawsuit.
British Prime Minister Theresa May, pressed repeatedly to give her response to Mr Trump's executive order, said: "The United States is responsible for the United States' policy on refugees."
There have been reports of "green card" holders, who are legal permanent residents of the US, being prevented from getting on flights.
CAIR advised non-US citizens, including permanent residents, from the seven countries to plan to delay all international travel for at least 90 days.
Mr Trump said the measures detailed in his executive order would "keep radical Islamic terrorists out of the US".
But rights groups say there is no link between Syrian refugees in the US and terrorism.
BBC