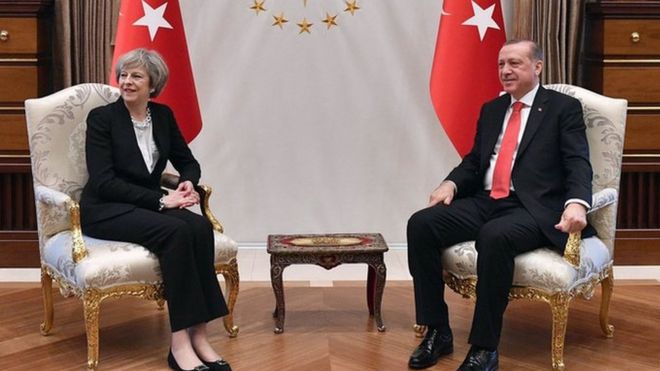 Britain has agreed a £100m defence deal to help develop fighter jets for the Turkish air force.
The announcement came as UK Prime Minister Theresa May met the Turkish president and prime minister in Ankara.
Mrs May said the defence agreement "underlines once again that Britain is a great, global, trading nation".
She said the UK would enhance trade relations with Turkey, and President Recep Tayyip Erdogan said his country would increase trade to $20bn (£16bn).
The defence agreement between BAE Systems and Turkish Aerospace Industries is for the Turkish Fighter Programme.
The deal would pave the way for a deeper defence partnership and help to safeguard key roles at BAE Systems, the announcement says.
Mrs May said: "It marks the start of a new and deeper trading relationship with Turkey and will potentially secure British and Turkish jobs and prosperity for decades to come."
BAE Systems chief executive Ian King said it "signals an exciting next step in relations between both Turkey and the UK".
The contract was announced after talks with Prime Minster Benali Yildirim.
BBC