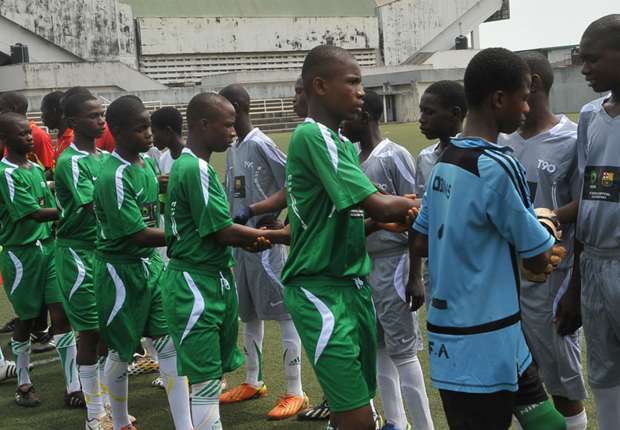 With everything to play for, Ibadan will be connecting champions this week
The
Etisalat U15 School Cup
regional playoffs kick off on Tuesday in Ibadan.
Niger College (Edo), Asegun Comprehensive High School (Oyo) and Ife Oluwa Middle School (Osun) will be returning to the competition after making their debuts in the 2015 edition of the tournament.
The rest of the participants in Ibadan are newcomers to the playoff and each will be want to leave their mark. They are: Ipako Junior High School, (Lagos), NUD High School Isabo(Ogun), Christ School, (Ekiti), Preston International College (Ondo).
The Ibadan leg of the playoffs takes place at the Lekan Salami Stadium. Competition organisers are expected to bus students to the venue for the trophy tour and kick-off match.
The fixtures as provided by the Nigeria School Sport Federation is as follows:
Region 1A Fixtures


Teams: Lagos State, Ogun State, Osun State, Oyo State.

| | | |
| --- | --- | --- |
| MATCH | DATE | TIME |
| Lagos Vs Ogun | 11 Oct | 2:30 pm |
| Osun Vs Oyo | 11 Oct | 4:00 pm |
| Ogun Vs Oyo | 12 Oct | 9:00am |
| Lagos Vs Osun | 12 Oct | 2:00 pm |
| Osun Vs Ogun | 13 Oct | 9 :30 am |
| Oyo Vs Lagos | 13 Oct | 2:00 pm |
Region 1B Fixtures


Teams: Delta State, Edo State, Ekiti State, Ondo State




| | | |
| --- | --- | --- |
| MATCH | DATE | TIME |
| Delta Vs Edo | 11 Oct | 2:30pm |
| Ekiti Vs Ondo | 11 Oct | 4:00pm |
| Edo Vs Ondo | 12 Oct | 11:00am |
| Delta Vs Ekiti | 12 Oct | 4:00pm |
| Ekiti Vs Edo | 13 Oct | 8:00am |
| Ondo Vs Delta | 13 Oct | 11:00am |