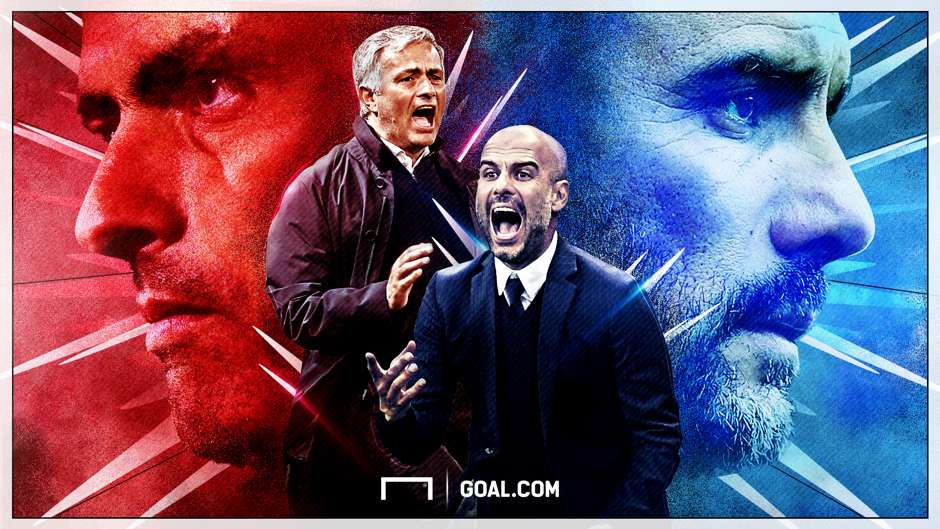 As Jose Mourinho and Pep Guardiola prepare to lock horns once again, this time in the Manchester Derby, Goal takes a look at the history between the two managers...
INTER 0-0 BARCELONA | September 2009 | Champions League | The rivalry got off to an inauspicious start. The former Barcelona colleagues first met as coaches at San Siro in the 2009-10 Champions League group stage. Guardiola's visitors dominated, but could not find a breakthrough. The fireworks would have to wait...
BARCELONA 2-0 INTER | November 2009 | Champions League | Early goals from Gerard Pique and Pedro handed Guardiola the first victory of this fledgling rivalry. No controversy just yet, but Xavi was typically spiky afterwards: "We had a lot of chances, Inter had practically nothing clear." But things were about to change.
INTER 3-1 BARCELONA | April 2010 | Champions League | Thanks to the volcanic ash cloud that grounded planes across Europe, Barca travelled to Milan via coach for their Champions League semi-final. Despite dominating their group stage clashes, the Catalans were soundly beaten by Mourinho's men. Inter had something to hold on to going into the return leg...
BARCELONA 1-0 INTER | April 2010 | Champions League | One of the most infamous clashes between these two rivals. Given their 3-1 advantage, and how they played in the group stage, Inter set up to defend their lead at Camp Nou. Thiago Motta's red card, following some theatrics from Sergio Busquets, only served to make the visitors more determined. A late Gerard Pique goal sparked a frantic finale, but Inter held out to make the final. Mourinho celebrated as only Mourinho can.
BARCELONA 5-0 REAL MADRID | November 2010 | La Liga | Mourinho's role in stopping Barca winning the Champions League at the Santiago Bernabeu landed him the big job in Madrid. He was charged with ending the Catalans' domestic dominance by Florentino Perez, and his league campaign got off to a great start. Heading into this match, Madrid were unbeaten and top of the table. That quickly changed as Barca put on one of the best performances of all-time.
REAL MADRID 1-1 BARCELONA | April 2011 | La Liga | The title was pretty much gone by the time the two rivals met again in April, but there were bigger fish to fry. This was the first of four Clasicos in the space of 18 days which would decide La Liga, the Copa del Rey and who made the Champions League final. This 1-1 league draw did not throw Barca off course but, with Raul Albiol sent off early in the second half and a penalty for each team, it was a sign of things to come.
BARCELONA 0-1 REAL MADRID | April 2011 | Copa del Rey | Mourinho won Madrid's first domestic cup trophy since 1993 in his first season at the club, courtesy of Cristiano Ronaldo's extra-time header. Iker Casillas kept out Andres Iniesta and Pedro in an occasionally brutal second half, before Ronaldo settled it and Angel Di Maria was sent off. Barca's treble hopes were dashed.
REAL MADRID 0-2 BARCELONA | April 2011 | Champions League | One of the most ill-tempered clashes between teams managed by Guardiola and Mourinho. Pepe became the fourth Madrid player to be sent off in four consecutive Clasicos, and Mourinho was banished from the dugout, too. Pepe's dismissal opened up a niggly affair and, in the extra space, Lionel Messi thrived. He scored twice, the second one of the best goals in Champions League history. Madrid's defeat encouraged Mourinho to hit out at Barca, UEFA and Unicef in his post-match press conference.
BARCELONA 1-1 REAL MADRID | May 2011 | Champions League | Unlike the first leg, this was an entertaining, reasonably controversy-free clash. Mourinho, banned thanks to his red card in Madrid, picked an attacking line-up to try to haul Barca back and saw Gonzalo Higuain's early goal ruled out for a foul in the build-up. Pedro, though, gave the hosts an unassailable lead, meaning Marcelo's reply could not stop Guardiola's men reaching another final.
REAL MADRID 2-2 BARCELONA | August 2011 | Spanish Supercopa | Barca won the title, Madrid won the cup, meaning the 2011-12 season was to start with a bang. This was another adventurous Madrid performance and Mesut Ozil gave them the lead. Barca hit back through David Villa and Lionel Messi but Xabi Alonso levelled it up in the second half. Ronaldo and Pedro had penalty appeals but there was no great controversy. That would all change...
BARCELONA 3-2 REAL MADRID | August 2011 | Spanish Supercopa | Probably the most controversial clash of all of Guardiola and Mourinho's 16 meetings. This was another high-quality, entertaining match, and Karim Benzema's goal nine minutes from time made the tie 4-4 on aggregate. Just as it looked as if it was slipping away, however, Lionel Messi struck the decisive goal in the 88th minute. All hell broke loose from then on, with Marcelo's red card sparking a huge brawl involving players, substitutes, and staff. Mourinho, in yet another of his infamous moments, poked Tito Vilanova in the eye as an excellent game descended into chaos.
REAL MADRID 1-3 REAL MADRID | December 2011 | La Liga | Madrid were top of the league heading into this one and Karim Benzema scored after just 23 seconds - the fastest goal in Clasico history. Still, Barca roared back to replace their old rivals at the Primera Division summit with goals from Alexis Sanchez, Xavi and Cesc Fabregas. It was a result that meant Mourinho had just one win from eight games as Madrid boss against Guardiola's Barca.
REAL MADRID 1-2 BARCELONA | January 2012 | Copa del Rey | Make that one win from nine games. Cristiano Ronaldo gave Madrid another early lead, but Carles Puyol equalised and Eric Abidal struck the winner to put Guardiola's side in the driving seat ahead of the second leg at Camp
BARCELONA 2-2 REAL MADRID | January 2012 | Copa del Rey | "Mourinho, stay" the Barca fans sang in mockery as they led 2-0 heading into half-time. The Portuguese was hurtling towards a record of just one win in 10 games against Barca since arriving in the Spanish capital, and fans back in Catalunya had even run a mock advert looking for a worthy Clasico rival. Madrid did fight back, with Ronaldo and Benzema making it 2-2 on the night, and although that put Camp Nou on alert, the hosts held on to eliminate los Blancos. Their second half performance, though, was a taste of things to #
BARCELONA 1-2 REAL MADRID | April 2012 | La Liga | If Barca were lauding it in January, they had cause for concern by April. Madrid were four points clear at the top of the league heading into this one, but at least they had Mourinho's poor record to cling to. But that counted for nothing as Cristiano Ronaldo struck the winner and silenced nearly 100,000 fans inside Camp Nou. It sent Madrid seven points clear, effectively sealing their first title in five years. Mourinho had been brought to Spain two years previously to end Guardiola's stranglehold and, in his second season, he was delivering. Pep left Barca at the end of the campaign, vastly successful but clearly worn down.Image
BAYERN MUNICH 2-2 CHELSEA | August 2013 | European Super Cup | Guardiola had taken a year-long sabbatical from football - and from Mourinho - but the two were thrust together by what seemed a cruel twist of fate. Bayern had won the Champions League under Jupp Heynckes before Pep arrived in Germany, while Rafa Benitez led the Blues to the Europa League as he kept the seat warm for Mourinho. The football, however, meant the two managers were just a sideshow (for a while at least). Bayern twice pegged Chelsea back, on the second occasion with the last kick of extra-time to force a penalty shoot-out. The Bavarians triumphed 5-4, leaving Mourinho to once again hint at a dark UEFA conspiracy over Ramires's red card.Image credit: Getty Images