Republican Donald Trump has sparked anger by suggesting his supporters could stop his Democratic rival Hillary Clinton by exercising their gun rights.
He said that Mrs Clinton would put liberal justices on the Supreme Court if she wins, threatening gun ownership protected by the Second Amendment.
Speaking at a rally in North Carolina, Mr Trump hinted that gun rights advocates could stop her taking power.
That sparked an online backlash, admonishing him for inciting violence.
"Hillary wants to abolish, essentially abolish the Second Amendment. By the way, and if she gets to pick her judges, nothing you can do, folks." the Republican presidential nominee said in Wilmington.
"But the Second Amendment people maybe there is. I don't know."
The Second Amendment enshrines the right to bear arms in the US Constitution.
Twitter users were quick to respond to Mr Trump's comments, criticising the Republican nominee for joking about gun violence.
Connecticut Senator Chris Murphy said that "unstable people" who hate Mrs Clinton could respond.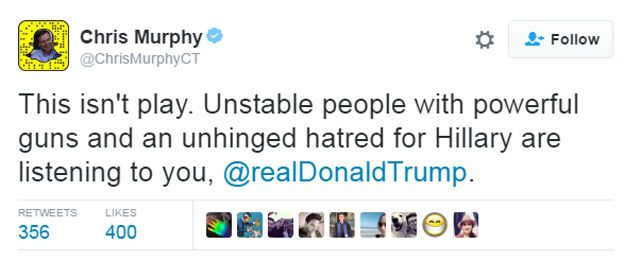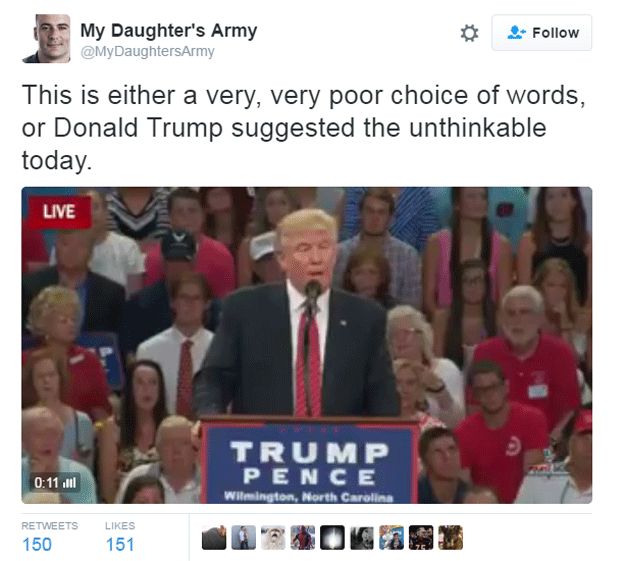 Robby Mook, Mrs Clinton's campaign manager, said "what Trump is saying is dangerous".
But Mr Trump's campaign was quick to respond, saying the candidate was referring to the power of gun rights advocates to vote in large numbers.
"It's called the power of unification - 2nd Amendment people have amazing spirit and are tremendously unified, which gives them great political power," the statement read.
"And this year, they will be voting in record numbers, and it won't be for Hillary Clinton, it will be for Donald Trump."