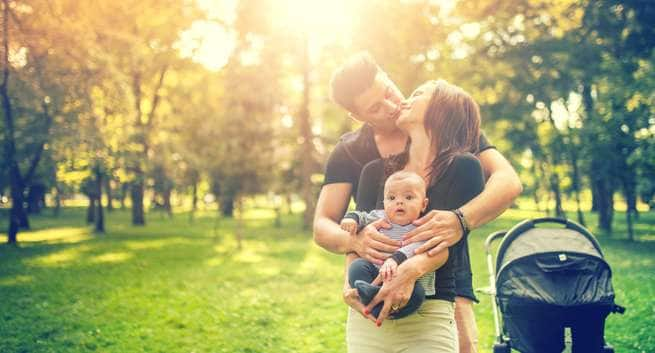 Has sex become a thing of the past because of the new baby at home? Follow these tips to make time for sex and rekindle your passion.
It is true that a baby can bring you and your partner closer emotionally but what about the physical closeness? Finding time to make love in between feeding, changing nappies, burping and fulfilling other duties, can get very challenging. When your gynaecologist tells you that you can have sex after six weeks of delivery, the first thing you're likely to ask is, "When?!"
Move to a different room
If you are co-sleeping and your baby is fast asleep, leave your baby in bed and move to a different room with your partner. However, ensure that you surround your baby with pillows. Just don't stack up the pillows as they can fall and suffocate the baby. Keep two pillows so that the baby doesn't roll and fall. You can use a baby monitor to keep a check on your baby.
Drop your kid to your parents' house
At times, you can keep your kid in your parents' care. And you are free to do what you want! And who told you a date night has to be a dinner or a movie? You could turn it into the best romp session you've had since a long time.
Hire a babysitter
Hire a babysitter to take your child to the park for two hours while you and your husband enjoy your time at home. Give each other massages and soak in a bubble bath together. This will help rekindle your sex life. These tips will help you have hot sex after marriage.
Leave the baby in play area
Just keep your baby in a play area and keep him engaged with safe toys. Make sure that the floor is covered with non-slip mats so that he doesn't hurt himself. Also, clear the room of anything that can choke the baby. Setting up a baby monitor can help you keep an eye on your baby.
Keep a track of his sleep patterns
It helps to take advantage of your baby's sleep patterns. Most babies sleep for at least a couple hours at a stretch after four months. Take advantage of your child's nap time to get up close and personal with your partner. Choose a time where you are least likely to be disturbed by your child.