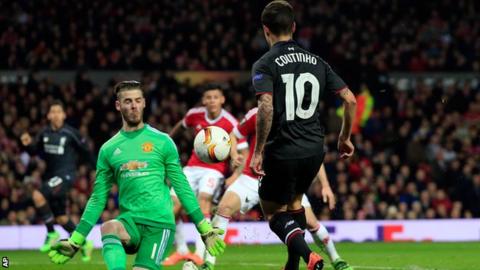 Philippe Coutinho's brilliant solo goal killed Manchester United's hopes of a Europa League comeback and sent Liverpool into the last eight in comfort at Old Trafford.
Jurgen Klopp's side were
protecting a two-goal lead
from the first leg at Anfield but Anthony Martial's 32nd-minute penalty offered United brief hope after he was fouled by Nathaniel Clyne.
Jesse Lingard and Juan Mata had missed clear opportunities for United but Liverpool were also a threat as David de Gea saved superbly from Coutinho while Daniel Sturridge hit the bar with a free-kick and Jordan Henderson missed an open goal.
The away goal Liverpool threatened, and which left United needing four on the night, came right on half-time when Coutinho beat Guillermo Varela with ease before lifting a near-post finish past De Gea.
It ended the game as a contest with United unable to rouse themselves again as Liverpool completed the formalities to win the first European meeting between the two clubs.
Sadly, the final stages of the match were marred by clashes between supporters near the Liverpool corner of the ground - and it remains to be seen if Uefa take any action.
Manchester United, in the first half at least, played with a pace, and showed a spirit and endeavour, that has rarely been displayed at Old Trafford this season - but the task was too much.
And that was down to the lamentable performance at Anfield last Thursday when Liverpool dominated every facet of the first leg to secure a two-goal lead that could actually have been much more.
It left United vulnerable to one goal from Liverpool that would leave them needing four, and so it proved when Coutinho's brilliant dribble provided that crucial away strike.
United, from that point on, looked like the team they have been for most of this season - pedestrian, uninspired and struggling to illuminate an Old Trafford stage that has suffered much this season.
And there was suffering in hearing songs of celebration from 3,000 Liverpool fans tucked away in one corner of the stadium as their arch-rivals celebrated victory in the first European meeting between the two sides and a place in the last eight of the Europa League.
It was also further evidence that, for all those who still feel United might be better off without Wayne Rooney, that this team still misses him very badly as he was reduced to watching the game from the stands with his son as the England captain recovers from a knee injury.