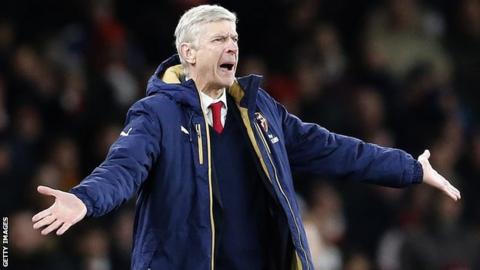 Arsenal manager Arsene Wenger said he was "worried" about his side's recent results on a night where three title challengers were beaten.
The Gunners'
2-1 loss to Swansea
leaves them third, six points adrift of leaders Leicester and Wenger says they "must get back to positive results".
Tottenham missed the chance to go top of the table after defeat at West Ham.
And Leicester were helped further as Manchester City lost at Liverpool, leaving them 10 points adrift.
'Worry, reality, basics'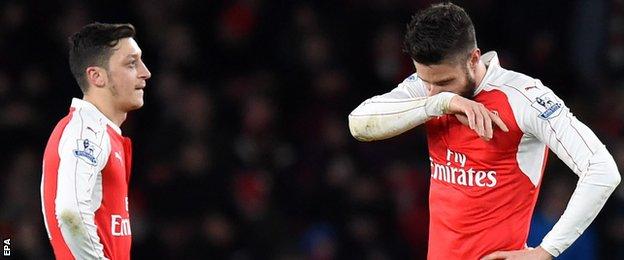 Wenger said his side's loss of form "looks a bit" like a confidence issue after Ashley Williams scored late on to earn relegation-threatened Swansea a 2-1 win.
Arsenal have lost three games in a row for the first time since 2010 and injuries to defender Laurent Koscielny and goalkeeper
Petr Cech
could prove key when they meet Tottenham on Saturday.
"At the moment I am worrying about our results," Wenger, 66, said. "At the moment we don't dream. We have to be realistic and come back to what we do well, the basics.
"It's a very disappointing result. The players are very down but we have to respond to that. I believe that we need to get back to positive results before we speak about the Championship which is at stake at the moment."
Match of the Day pundit Alan Shearer: "Arsenal's issues have been repeated over and over again, season after season. There is a lack of fight, lack of leadership, the same questions are hanging over them. You'd think they would come out and make a statement [after Sunday's defeat at Manchester United] but it wasn't there. Again."
Title jitters?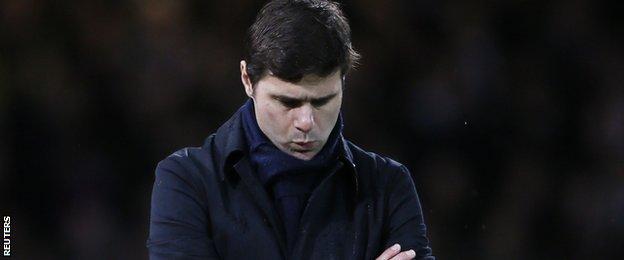 Leicester's
2-2 home draw
against West Bromwich Albion on Tuesday gave Spurs the chance to top the table in the month of March for the first time since 1964.
"Was it nerves? No," Spurs boss Mauricio Pochettino, 44, said.
"I think we made some mistakes that we normally don't make. We started badly, conceded a goal and West Ham played better than us.
"We were poor. We know. We are very disappointed. But the way the players fought in the second half was fantastic."
Match of the Day pundit Alan Shearer: "Spurs lacked energy, they had no spark, their passing was poor. West Ham were dominant all game. They overpowered Spurs. It was a thoroughly deserved three points."